Christina N. Stewart
16 July 2017
Blog #1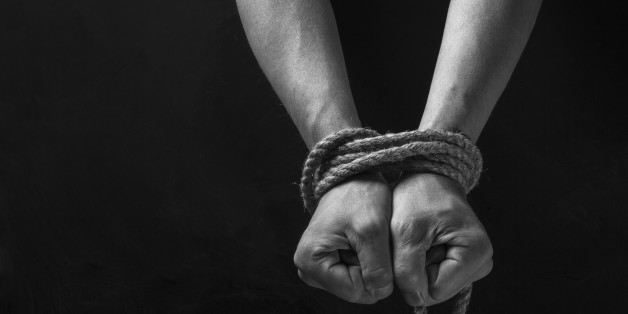 Much like every other country in the world, the United States of America has been no stranger to slavery. Without a doubt, slavery has had an extensive, well-known history, but there is one particular form of exploitation which proves that modern variations of enslavement exist to this day: human trafficking. Arguably the greatest ethical challenge facing the world today and one of the most tragic, egregious human rights violations of our time, human trafficking is modern-day slavery. Simply put, human trafficking is the unjustified trade and exploitation of individuals for sex or for labor through force, fraud or coercion. It's the commodification of human beings. It's an insidious crime that both dehumanizes and erodes human dignity. The stomach-turning realization that human trafficking exists seems like fantasy. After all, who would imagine that a form of slavery could still exist in the 21st century in a country founded on freedom? Unfortunately, this is absolutely the case. In fact, the issue is so widespread and extensive that virtually every country in the world could be considered a country of origin, transit, or destination for trafficking. If this isn't shocking enough, it's estimated that there are more slaves now than at any other point in history. Despite this reality, the nature of human trafficking is sometimes overlooked and deemed intangible. It's a problem most Americans assume is confined to far-off, developing countries. The truth of the matter is that it's as real and immediate an issue in the United States as it is throughout the world. If you've benefited from cheap goods, you've benefited from slavery.
As one of the vilest crimes committed against humanity, human trafficking implicates Americans of all backgrounds and socio-economic statuses whether they know it or not. It is for this reason that Dr. Maxam and I felt compelled to bring awareness to this subject. Through our research project, "Using Crime-Mapping to Understand and Identify Hot Spots for Human Trafficking in the U.S.," we want to bring awareness to the issue of human trafficking while also helping to map out hot spots where this inhumane crime is most prevalent. The crime mapping is not only helpful for prevention, but can also be helpful when discussing new possible legislation. Through both our research and crime mapping, we hope to use our findings to create suggestions for clearer, more updated legislation against trafficking. I believe it's extremely important for strong legislation to be implemented and even more important for prosecutors to be knowledgeable of these laws. Frustratingly, many prosecutors and judges fail to pursue traffickers with actual trafficking laws, overwhelmingly indict them with lesser crimes, and sometimes even charge the victim for engaging in prostitution. In some cases, prosecutors believe the certainty of punishment is more valuable than its severity. This injustice should not be allowed to continue. Emphasis should be placed on the atrociousness of those who profit from exploiting others. As it is, a trafficking victim faces a bitter struggle for safety and dignity— often staying silent as they remain dependent upon their abuser or abusers. Clearer legislation could be the key to giving victims a voice and ending the commonality of victim blaming.
We'll begin our research with the objective of gaining a general overview of the heinous nature of human trafficking—placing emphasis on the types of trafficking as well as their causes. Part of this general overview of human trafficking will involve researching its history in both the U.S. and abroad. Additionally, we'll find resources for trafficking victims and possible prevention measures. Our other objective will be to look at the interconnectedness of worldwide trafficking—learning how both industrialized and developing countries partner to engage in this "business". In the end, we'll create a crime map that will be complemented by our research. The research that we acquire will help us pinpoint where trafficking is most likely to occur, and where it's actually occurring. A majority of our research will be based on the U.S.—concentrating on where it is most prevalent, who is most often trafficking, and where trafficked victims come from. The crime map that we create will be centered on New York City. It will enable us to identify trafficking hotspots in this area. If you think about it, New York City's large immigrant population and close proximity to major airports and other ports of entry make it the perfect area for trafficking to thrive.
In order to answer my research questions and complete my objectives, I will use a variety of research methods. I will conduct internet research via media articles and videos, view police reports, legal documents, and case files to help aide in the crime mapping process, and utilize databases to view peer reviewed journals. In addition, I will conduct informational interviews with a few individuals from various backgrounds who are well-versed in human trafficking. These interviews will include a world renowned forensic traumatologist, a former counsel at the New York County Lawyers' Association, as well as others.
Ultimately, I expect to gain a comprehensive understanding of both human trafficking and crime mapping. I've never done crime mapping before, and I'm sure learning this skill would prove to be a valuable resource for me in the future. Aside from learning the technology behind crime mapping, I will also be able to visualize hot spots of where trafficking is actually occurring. This is something that I currently have limited information on and am eager to discover. I'd like to think I have a pretty general understanding of human trafficking, but being able to crime map would certainly help to broaden my understanding. For this reason, I am sure this part of the research will be especially eye-opening for me. I expect our findings to potentially be submitted to both the forensic traumatologist we'll be working with as well as local law enforcement so that key areas for trafficking could be accurately identified. Although this atrocity degrades and victimizes countless people every year, there has been very little mapping done to track it. Because of this, our research has the potential to be quite significant.
It's overwhelming to get your mind around the indignity of how humans can treat other human beings. Having said that, human trafficking is an issue that I feel is such a violation of human rights and such an injustice to human beings in general that it simply must be brought to more people's attention. I am excited to gain what I know will be an exceptional amount of knowledge and insight about this topic from a range of various perspectives. I am also extremely excited to have the opportunity to present the findings to a global audience at the "International Journal of Arts and Sciences" academic conference in Germany this November.